A story told in Sabian Symbols:
Terrible, Terrorizing War-god's Street Pageant
by Dale O'Brien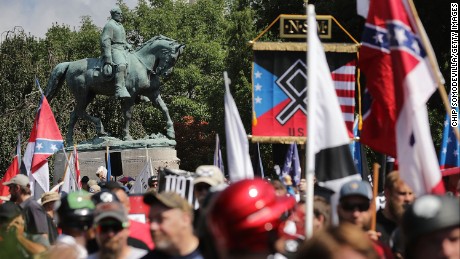 Charlottesville, Virginia, war party weekend, Leo Sun August, 2017

In fervent tribute to their war god Mars, now burning bright in Fire sign Leo, angry young men parade through darkness with flaming torches. Many have their guns with them. This army has come together to defend the idol image of their (to them) holy warrior general, Robert E. Lee. (Holy? Yes. In the renowned Episcopal National Cathedral, in national capital, Washington, D.C., there is a stain glass window featuring Robert E. Lee.)

This army of worshippers of the angry god of war lay siege to those who they perceive to be their enemies: a church filled with people of both genders, unarmed, of diverse religious persuasions, yet sharing in common values of love, peace and tolerance. As soon as these people emerge, they are aggressively backed up around a statue of Thomas Jefferson. Some torches are swung like swords at the unarmed. Only the intervention of anti-fascist anarchists saves their lives. Spiritual pacifists and their anarchist defenders confront Mars with Venus, that is with song, "This little light of mine, I'm gonna let it shine…" There will be no sacrificial human flesh offering to the war god this evening. The next day will be a different story.

From 3:32 a.m. EDT this same Friday 8/11 through 5:03 pm EDT on "Saturn day" August 12, Mars transits 14+ Leo, Sabian Symbol image: "A STREET PAGEANT moving along a street packed with people." Mars rules Uranus then (and now) in Aries, so, rebellious and in disrespect of the law, the angry army gathers before their assembly permit allows. Saturn, god of law and order, was (and is) on a Sabian symbol image associated with compliance with written law. However, Saturn in retrograde stance was reluctant to act, mostly doing nothing. Further, Saturn then (and now) was/is ruled by Jupiter on Sabian Symbol image : "A gang of robbers in hiding." Translation: the cops sided with "the bad guys," the law-breakers.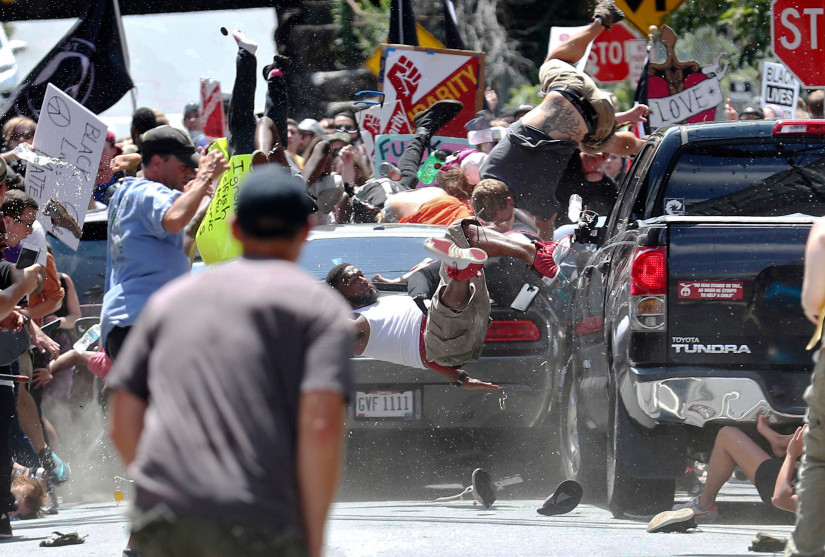 Probably the worst incident of the morning occurred when a gang ("in hiding") steps out of a parking lot, grabs an unarmed African American, pulls him into the garage and nearly beats him to death with what appear to be lead pipes. (See Greg Palast's story, with disturbing accompanying images.) So, the blood sacrifice to Mars comes closer to happening than last night, yet not quite, not quite yet.
Despite their aggressive stance, superior numbers and wielding weapons including spear-tipped flagstaffs and firearms, the army said they were there to defend themselves. To that end, many of them carried shields. Mythological Pallas Athena famously carried a shield. Pallas Athena's Sabian Symbol for this time describes people walking down a street.
However, there is a saying in American football, "Sometimes the best defense is a good offense." About 1:30 pm EDT on that August 12th, Mars was high in the sky, with the Sun. An angry young man, 20, at high speed, charges his car, grimly appropriately named a Dodge Challenger, down a narrow street teeming with non-violent people not receptive to this invading army and their religion of hate and dominance. He seriously injures a great many people, but he successful gifts his god with the death of a 32 year old woman.
Some additional Sabian Symbol images for this event::
MOON in Mars-ruled Aries: "A boxer entering the ring" (Sometimes worded as A Challenger enters the ring --- note the name of his murder weapon)
PLUTO on degree image of a Union Jack flag on a warship. Note the similarity of the Union Jack to the Confederate battle flag, prominently displayed that weekend
DESCENDANT (at 1:30 pm):"A symbolical battle between swords, the disciples of might, and torches, the disciples of enlightenment" Note that for an event chart, "the other" (not the driver/murderer) is seen as in the image of the descendant

CONCLUSION: Once again, the SABIAN SYMBOLS tell a unique, specific story with great precision and total relevancy, with clues to understanding. If you have not already done so, I strongly encourage you to purchase Lynda Hill's book, THE SABIAN ORACLEORACLE: 360 Degrees of Wisdom It's a MUST HAVE life-long reference book not only for astrologers, but completely accessible even to those who don't know much or any astrology.