2020: THE WORLD DOES NOT END! (However…)
The Biggest Changes in Hundreds of Years Are Coming Soon.
Dear Kindred Spirits,
I apologize for the very short notice, due to different recent delays, but nonetheless,
I am honored to be a presenter in the upcoming FREE Online Summit, Preparing for 2020, Seeding a New World, exploring the Rare Planetary Alignment happening in the year 2020, hosted by Daniel Giamario and Cayelin Casell, the founders of the Shamanic Astrology Mystery School. Please know that you do NOT need a background in astrology to gain valuable insights about how to navigate this remarkable time.
The Summit is launching on December 1st, 2017 and ends with a live Q & A on December 20th at 5 pm PST (= 2 pm EST). If you sign up (see below), each presentation will be available for 72 hours after that. Daniel's Key Note presentation is December 1st; Cayelin's important "Grandmothers" presentation is December 2nd; there will be no presentation on December 3rd.
I'll be presenting on "Moon day" December 4th:
The Phasing Out of Old, Dying America Before a New Birth On the day of Trump's inauguration, the U.S. entered its darkest and final phase, the time of "THE FOOL" (in terms of W.B. Yeats' A VISION). In part, I'll share Yeats-inspired clues about how to be with this time before a NEW AMERICA begins --- soon. Between now and then, specifically in 2020, there is a mythological V.I.P. Winter Council coinciding to this profound planetary conjunction.
This powerful Online Summit not only includes my own presentation, but presentations form many other transformative healers, wisdom keepers and astrologers providing insights and understanding about the intent of this rare gathering of planets and how we can best navigate this remarkable time. Feel free to share this far and wide with anyone you feel might be interested in participating with this unique event. You must sign up for this summit to be included in emails announcing when the video presentations have been released.
Additional information and sign up at: http://shamanicastrology.com/2020-home
Thank you for reading this, and welcome to "the Summit"!
Chironically,
Dale (O'Brien)
---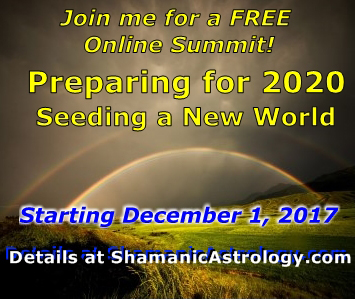 ---
Helpful relevant insights to this era, courtesy of MICHAEL MEADE, available free to watch and hear on YouTube. Click on links below:
The LIGHT INSIDE DARK TIMES Tales of Healing and Change
THE LIGHT INSIDE DARK TIMES: EXCERPT 1 (quick)