AVAILABLE FOR CONSULTATIONS By PHONE (or in person)
Fee: $125.00 per hr. Payable by check or money order (USD), plus the phone charge for the session cost.
Hourly rate will increase soon due to an increase in my rent and other
expenses.
*CD of my commentary from the session can be postal-mailed within the U.S. at no additional charge.
Prepayment is required for a first time session. Check or money order will not be deposited until the session is complete to your satisfaction.

Sorry, no PayPal or credit cards; $5 additional bank fee for non-U.S. checks
plus $5 additional if CD of my commentary is postal-mailed outside of U.S.
Check or money order payable to:
Dale O'Brien
mailing address:
PO Box 5787
Eugene, OR 97405
Phone for voicemail, procedural questions,
or for your session is:
541-485-9772
---
The ASTROLOGY MINORITY REPORT email newsletter will be free, but donations are welcome, and it may not happen without your help.
To sign up, just email:
chironguy@pacinfo.com
Donations of any amount can
be sent to:
Dale O'Brien
P.O. Box 5787
Eugene, OR
97405-0787
2017 & 2024 Solar Eclipse Paths: America's Historical
(and Near Future?) Societal and Earth Changes
If you care to do so, please share with others who might be interested. Comments are welcome under the video and/or by email to me. Comments under video are subject to my approval, to prevent negative "trolls" (racists, etc.) and "spam."
Trump and Lincoln both "won" presidency in Chinese "Monkey" years, with the country severely divided, and racism as an issue (as was the case in the Monkey Year when George Wallace ran and got a sizeable minority of the popular vote).

We are in the 28th of 28 phases of America's Pluto cycle (248 years, ending 2024). The 28th phase, via W.B. Yeats, is that of "The Fool." The Fool is an old man, at best, a Shakespearean Fool; at worst, he's the village idiot. Somehow, something new and young in Spirit, without the flaws of the old, is meant to be born as the new America. As Tracy Chapman sang, "...We can start all over, make a new beginning...."

F.Y.I.: Submitted late last tonight (7/24) and presumably "up" today (7/25), is a YouTube of my "encore" slide presentation of July 20th:
2017 & 2024 Solar Eclipse Paths:
America's Historical (and Near Future?) Societal and Earth Changes
(Astrology literally brought Down to Earth)
approximately 90 minutes
Featuring amazing "coincidences" (see description in attachment) and near precise celestial/terrestrial alignments, Bob Dylan as prophet, and lots, lots more....

my YouTube channel: Dale O'Brien Eco-Mythic Astrology Videos

Doc Chiron &
Astrolomythology
(read article here)



Nature Is Speaking
Harrison Ford is The Ocean
Conservation International (CI)
ARTICLES:
"August 2017 Solar Eclipse and Time-relevant Astrology Solar Eclipse Chart"
"Terrible, Terrorizing War-godís Street Pageant"
Neptune in Scorpio
Rocks The World
Typhon: Life and Love in the
Era of the Sea Monster
12/21/2012
"The Beginning of the Age
of the Oneness of
All Living Things"
Wishing You A Joyous
Epiphany 2013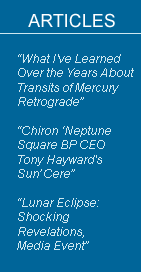 ---
Sign Up For
ASTROLOGY
MINORITY REPORT
Email Letters
As many know, the biggest astrological organizations and websites based in the U.S. are led and made up of predominantly relatively well-off Caucasians with an unexamined "keywords" approach to astrology. The late depth psychologist, James Hillman co-wrote a 1992 book called WE'VE HAD 100 YEARS of PSYCHOTHERAPY --- AND THE WORLD IS GETTING WORSE. Perhaps you'll agree with me that the world is infinitely worse since that "Monkey" year, 1992.
Meanwhile, we've had about a half a century of modern unimaginative hearsay astrology. The world is not only getting worse, but most modern astrologers couldn't see it coming, or guide us through it. Past astrology predictions have hardly ever been fact-checked for accuracy, as American astrologers, like most ordinary Americans, tend to prefer to look forward, never looking back. Like the rest of America, astrologers, if they look at history at all, tend to embrace historical fictions that flatter well-off American Caucasians of old.
North American astrologers, if religious at all, tend to see astrology as separate from the spiritual, as if on the other side of a line of Buddhist prayer flags. Similarly, although Carl Jung told us that Soul is expressed and accessed through imagery, most modern astrologers ignore or downplay the rich imagery and mythology that is the origin and essence of astrology itself. Here's a pop quiz: What is the mythological story of the sign and constellation Pisces?
It's very easy to get conventional astrology at astrology conventions and with first page "Google" searches. If there is enough interest, even a minor interest, I'll soon be sharing an email letter, ASTROLOGY MINORITY REPORT. In such a report, expect to read an unfortunately iconoclastic look at some modern astrological assumptions, undermined by the real truth of American history, and/or contemporary reality. First up: Hidden Truth: Jupiter, Uranus and "Manifest Destiny"