AVAILABLE FOR CONSULTATIONS By PHONE (or in person)
Fee: $125.00 per hr. Payable by check or money order (USD), plus the phone charge for the session cost.
Hourly rate will increase soon due to an increase in my rent and other
expenses.
*CD of my commentary from the session can be postal-mailed within the U.S. at no additional charge.
Prepayment is required for a first time session. Check or money order will not be deposited until the session is complete to your satisfaction.

Sorry, no PayPal or credit cards; $5 additional bank fee for non-U.S. checks
plus $5 additional if CD of my commentary is postal-mailed outside of U.S.
Check or money order payable to:
Dale O'Brien
mailing address:
PO Box 5787
Eugene, OR 97405
Phone for voicemail, procedural questions,
or for your session is:
541-485-9772
---
The ASTROLOGY MINORITY REPORT email newsletter will be free, but donations are welcome, and it may not happen without your help.
To sign up, just email:
chironguy@pacinfo.com
Donations of any amount can
be sent to:
Dale O'Brien
P.O. Box 5787
Eugene, OR
97405-0787
2017 & 2024 Solar Eclipse Paths: America's Historical
(and Near Future?) Societal and Earth Changes
If you care to do so, please share with others who might be interested. Comments are welcome under the video and/or by email to me. Comments under video are subject to my approval, to prevent negative "trolls" (racists, etc.) and "spam."
Trump and Lincoln both "won" presidency in Chinese "Monkey" years, with the country severely divided, and racism as an issue (as was the case in the Monkey Year when George Wallace ran and got a sizeable minority of the popular vote).

We are in the 28th of 28 phases of America's Pluto cycle (248 years, ending 2024). The 28th phase, via W.B. Yeats, is that of "The Fool." The Fool is an old man, at best, a Shakespearean Fool; at worst, he's the village idiot. Somehow, something new and young in Spirit, without the flaws of the old, is meant to be born as the new America. As Tracy Chapman sang, "...We can start all over, make a new beginning...."

F.Y.I.: Submitted late last tonight (7/24) and presumably "up" today (7/25), is a YouTube of my "encore" slide presentation of July 20th:
2017 & 2024 Solar Eclipse Paths:
America's Historical (and Near Future?) Societal and Earth Changes
(Astrology literally brought Down to Earth)
approximately 90 minutes
Featuring amazing "coincidences" (see description in attachment) and near precise celestial/terrestrial alignments, Bob Dylan as prophet, and lots, lots more....

my YouTube channel: Dale O'Brien Eco-Mythic Astrology Videos
---
August 2017 Solar Eclipse: A "Time Out" (or Time-Out-of-Time) Opportunity for America

Other than the dramatic visual experience of the August 21, 2017 "Great American Solar Eclipse, this event reminds us of how differently we can define and value time. (read more ... )
---
Time-relevant Astrology in the 8/21/2017 Solar Eclipse Chart
8/21/2017: Eclipsed Sun with Moon in Leo are tightly Trine Uranus in Aries. When we include a 7+-degree Trine to Saturn in Sagittarius (with black Moon Lilith in Sagittarius), we have a Grand Fire Trine (also including Mars in Leo, just a few degrees from eclipsed Sun in Leo with Moon in Leo. (read more ... )
---
A story told in Sabian Symbols:
Terrible, Terrorizing War-god's Street Pageant
by Dale O'Brien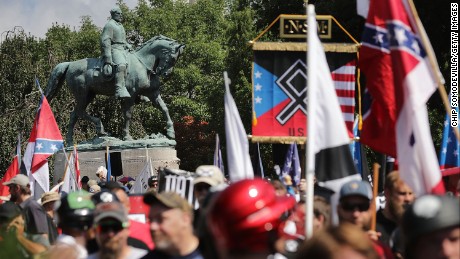 Charlottesville, Virginia, war party weekend, Leo Sun August, 2017

In fervent tribute to their war god Mars, now burning bright in Fire sign Leo, angry young men parade through darkness with flaming torches. Many have their guns with them. This army has come together to defend the idol image of their (to them) holy warrior general, Robert E. Lee. (Holy? Yes. In the renowned Episcopal National Cathedral, in national capital, Washington, D.C., there is a stain glass window featuring Robert E. Lee.)

This army of worshippers of the angry god of war lay siege to those who they perceive to be their enemies: a church filled with people of both genders, unarmed, of diverse religious persuasions, yet sharing in common values of love, peace and tolerance. As soon as these people emerge, they are aggressively backed up around a statue of Thomas Jefferson. Some torches are swung like swords at the unarmed. Only the intervention of anti-fascist anarchists saves their lives. Spiritual pacifists and their anarchist defenders confront Mars with Venus, that is with song, "This little light of mine, I'm gonna let it shine…" There will be no sacrificial human flesh offering to the war god this evening. The next day will be a different story.

From 3:32 a.m. EDT this same Friday 8/11 through 5:03 pm EDT on "Saturn day" August 12, Mars transits 14+ Leo, Sabian Symbol image: "A STREET PAGEANT moving along a street packed with people." Mars rules Uranus then (and now) in Aries, so, rebellious and in disrespect of the law, the angry army gathers before their assembly permit allows. Saturn, god of law and order, was (and is) on a Sabian symbol image associated with compliance with written law. However, Saturn in retrograde stance was reluctant to act, mostly doing nothing. Further, Saturn then (and now) was/is ruled by Jupiter on Sabian Symbol image : "A gang of robbers in hiding." Translation: the cops sided with "the bad guys," the law-breakers.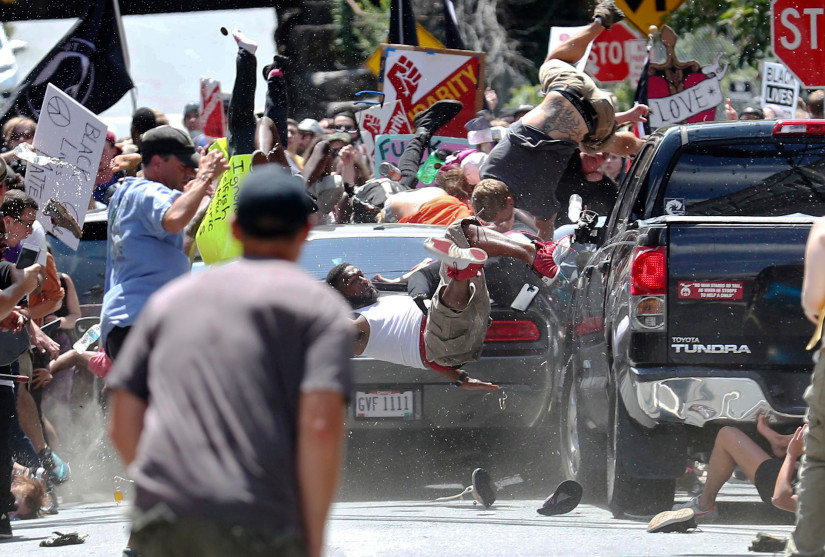 Probably the worst incident of the morning occurred when a gang ("in hiding") steps out of a parking lot, grabs an unarmed African American, pulls him into the garage and nearly beats him to death with what appear to be lead pipes. (See Greg Palast's story, with disturbing accompanying images.) So, the blood sacrifice to Mars comes closer to happening than last night, yet not quite, not quite yet.
Despite their aggressive stance, superior numbers and wielding weapons including spear-tipped flagstaffs and firearms, the army said they were there to defend themselves. To that end, many of them carried shields. Mythological Pallas Athena famously carried a shield. Pallas Athena's Sabian Symbol for this time describes people walking down a street.
However, there is a saying in American football, "Sometimes the best defense is a good offense." About 1:30 pm EDT on that August 12th, Mars was high in the sky, with the Sun. An angry young man, 20, at high speed, charges his car, grimly appropriately named a Dodge Challenger, down a narrow street teeming with non-violent people not receptive to this invading army and their religion of hate and dominance. He seriously injures a great many people, but he successful gifts his god with the death of a 32 year old woman.
Some additional Sabian Symbol images for this event::
MOON in Mars-ruled Aries: "A boxer entering the ring" (Sometimes worded as A Challenger enters the ring --- note the name of his murder weapon)
PLUTO on degree image of a Union Jack flag on a warship. Note the similarity of the Union Jack to the Confederate battle flag, prominently displayed that weekend
DESCENDANT (at 1:30 pm):"A symbolical battle between swords, the disciples of might, and torches, the disciples of enlightenment" Note that for an event chart, "the other" (not the driver/murderer) is seen as in the image of the descendant

CONCLUSION: Once again, the SABIAN SYMBOLS tell a unique, specific story with great precision and total relevancy, with clues to understanding. If you have not already done so, I strongly encourage you to purchase Lynda Hill's book, THE SABIAN ORACLEORACLE: 360 Degrees of Wisdom It's a MUST HAVE life-long reference book not only for astrologers, but completely accessible even to those who don't know much or any astrology.

Doc Chiron &
Astrolomythology
(read article here)



Nature Is Speaking
Harrison Ford is The Ocean
Conservation International (CI)
ARTICLES:
Neptune in Scorpio
Rocks The World
Typhon: Life and Love in the
Era of the Sea Monster
12/21/2012
"The Beginning of the Age
of the Oneness of
All Living Things"
Wishing You A Joyous
Epiphany 2013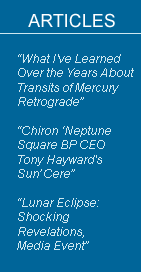 ---
Sign Up For
ASTROLOGY
MINORITY REPORT
Email Letters
As many know, the biggest astrological organizations and websites based in the U.S. are led and made up of predominantly relatively well-off Caucasians with an unexamined "keywords" approach to astrology. The late depth psychologist, James Hillman co-wrote a 1992 book called WE'VE HAD 100 YEARS of PSYCHOTHERAPY --- AND THE WORLD IS GETTING WORSE. Perhaps you'll agree with me that the world is infinitely worse since that "Monkey" year, 1992.
Meanwhile, we've had about a half a century of modern unimaginative hearsay astrology. The world is not only getting worse, but most modern astrologers couldn't see it coming, or guide us through it. Past astrology predictions have hardly ever been fact-checked for accuracy, as American astrologers, like most ordinary Americans, tend to prefer to look forward, never looking back. Like the rest of America, astrologers, if they look at history at all, tend to embrace historical fictions that flatter well-off American Caucasians of old.
North American astrologers, if religious at all, tend to see astrology as separate from the spiritual, as if on the other side of a line of Buddhist prayer flags. Similarly, although Carl Jung told us that Soul is expressed and accessed through imagery, most modern astrologers ignore or downplay the rich imagery and mythology that is the origin and essence of astrology itself. Here's a pop quiz: What is the mythological story of the sign and constellation Pisces?
It's very easy to get conventional astrology at astrology conventions and with first page "Google" searches. If there is enough interest, even a minor interest, I'll soon be sharing an email letter, ASTROLOGY MINORITY REPORT. In such a report, expect to read an unfortunately iconoclastic look at some modern astrological assumptions, undermined by the real truth of American history, and/or contemporary reality. First up: Hidden Truth: Jupiter, Uranus and "Manifest Destiny"